Carpenter Community Charter is part of the Los Angeles Unified School District.

The school is in Studio City and was opened in 1924 under the name Carpenter Avenue School and is still in the same location. The Administrative Building was constructed in 1938 in PWA Moderne styling and was originally a high school. The current principal of the school is Joseph Martinez and the assistant principal is Hope Matthews. The school has a new large library with fast internet connection.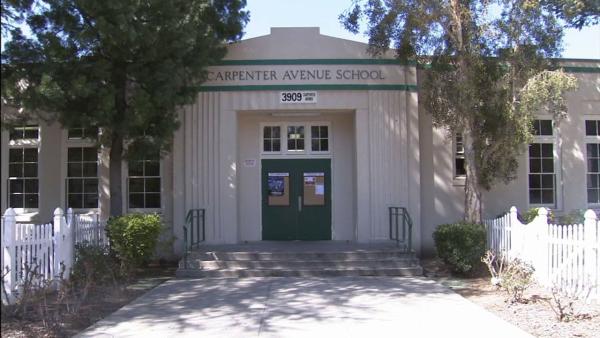 Carpenter Community Charter School does not need to hold a lottery for people who live in the neighborhood. Principal Joseph Martinez sent out emails to residents who live in the area notifying locals that there are enough spaces to accommodate them.  That is due in part to the verification process that the Los Angeles Unified School District allowed the school to do.
In the letter sent out, Martinez notes:
Thank you for applying to enroll at Carpenter Community Charter. As of the close of the Application Period, we have space available for all resident applicants received during the Application Period that ended March 22. Applicants must be a resident at the start of the school year to complete the enrollment process.
Your child's enrollment is not complete until we conduct a final address verification at the start of school, but your place is reserved pending this final verification. We're looking forward to having your family join our school community!
Please notify our office after Spring Break if your child will not be attending Carpenter next year.

Best,
Joe Martinez

This was the letter that Gretchen Goldsmith received, she moved within walking distance of the school so her twins could attend. She needed to know if there was room for her twins otherwise she would have had to apply to a private kindergarten.
Georgianna Junco Kelman commented on a Patch story: "A kinder lottery for residents has been effectively averted! We were able to weed out 30 families that attempted to apply for next year using false addresses. This brought our numbers below the allotted 168. Great news! We are in the process of removing the existing 120 fraudulently enrolled! The system is working fair and square! There were 176 new Kindergarten students applying to get into the school and even among the new applicants, 32 addresses have been flagged. There were 168 spots in kindergarten. If there are spots at the school, more than 200 other applicants from outside the Studio City district have applied to go to the charter affiliated school. That lottery is scheduled for later in April."